With the completion of our 2021 customer service survey, Ross Optical is pleased to once again receive high marks for customer service, technical expertise, quality, and delivery. This year, 98% of customers rated Ross above average or excellent as an overall supply chain partner!
Our customer service team strives to excel and their efforts are being recognized internally and externally! Our customers rated the friendliness and courteousness of our team above average or excellent by 100% of customers. We consistently met and exceeded 95% of our customers' quality requirements.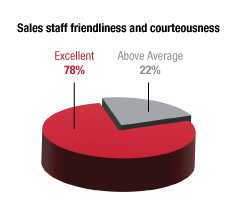 In addition:
92% of customers rated our quality system above average or excellent, saying it met their expectations.
95% of customers said we are helpful with inquiries.
95% of customers agreed that we respond in a timely manner to quote requests.
Here is what customers had to say about Ross:
"The sales and support staff are top-notch."
"100% on-time delivery!"
"Easy to work with, respond in a timely manner, always helpful."
"Excellent products and service."
We would like to thank all of our customers who took the time to give us feedback.
Congratulations to Doreen Grant with Carson Industries who won the Amazon gift card!
As always, feel free to contact us with additional feedback or questions.