Since our start in 1988, Ross Optical has grown to be one of the most trusted suppliers of optical solutions for critical projects. Last month we surveyed our long-term customers to understand what keeps them coming back, even as competition in the optics supply industry has grown. Based on their feedback, we'd like to share five reasons our customers keep returning.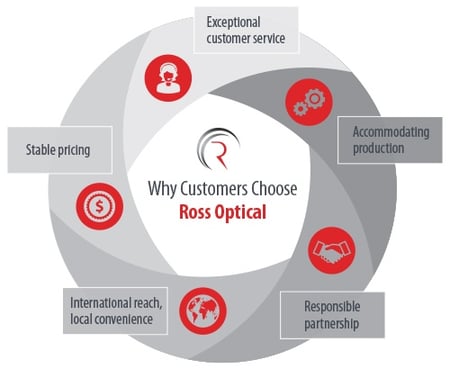 1. Exceptional Customer Service

We proudly employ people who deeply understand our products and technology, and who can discuss those technologies within the scope of various industrial applications. Many customers have built long-term professional relationships with our staff, something that isn't really possible with larger vendors. Our customers know that whenever they call, they will speak with a knowledgeable representative within minutes.
2. Responsible Partnership
Ross Optical is not "just another optics supplier." We actively support our customers at every stage of production, from design optimization through inventory management. Maintaining this "big picture" perspective enables us to alert our customers to factors that could impact their projects, and then work with them to minimize delays.
"Ross Optical is responsive and proactive. They will bend over backwards to accommodate anything we throw at them."
—Lisa Kourey, Buyer at Microtrac, Inc. [See case study]
3. International Reach, Local Convenience
Working with Ross Optical gives our customers access to a global network of optical fabricators without the headaches of handling international communication. More importantly, Ross Optical understands international trade regulations, especially ITAR. By working with us, customers who are developing sensitive technology can rest assured that all components will be ITAR-compliant and traceable.
4. Stable Pricing
Optical manufacturing is a volatile industry. The cost of a part can vary wildly from month to month depending on the market price of various factors, such as glass, tooling, and polishing compounds. This is particularly an issue for customers who order custom optical elements at irregular intervals. To ameliorate this problem, Ross maintains a level inventory of these proprietary parts for our customers. This enables Ross to charge a consistent low price, based on the average cost of manufacturing.
5. Accommodating Production
As a smaller optical fabrication company, we specialize in helping customers with unique demands. Small run optics? Tighter-than-usual scratch dig specifications? We can do that. Unhappy with system design or quality? We'll see if an aspheric lens or other design change can help. Current price point killing your profit? We'll explore design changes, new production methods, and alternate suppliers. Once we know what you need, we'll even keep those low-volume parts in stock for you.
When choosing a supplier, it is important to consider the experience — not just the products — you'll be receiving. Resources, reliability and responsiveness matter; you want a supplier that not only has the capabilities to meet your requirements, but also is eager to help and accommodate your specific needs. Give us a call today to see what Ross Optical can do for you, or learn more about our:
You can also download our Supply Chain Process Improvement Guide.