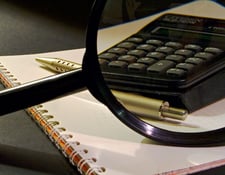 ISO certification standards are tightening, particularly for manufacturers of medical devices. ISO certification audits can extend all the way up the supply chain. Choosing a medical OEM optics supplier that has a robust quality management system (QMS) in place makes these audits easier on your business. Here are four ways a disciplined approach can save you time, money, and frustration.
1. Culture of Quality
Precision and consistency are of prime importance to the precision optics industry. Every person at Ross Optical is dedicated to those two values, from our technicians through top management. Quality management is a team effort, and every employee at Ross is empowered to raise concerns if they discover an issue that could affect product quality.
2. Catalog & OEM Part Traceability
Part traceability is critical to many certification programs such as FDA and ITAR. Ross Optical maintains documentation for both catalog and OEM optics. Should a customer need to audit components for a device they manufacture, Ross can supply detailed information as far back as 10 years, not only for the individual lens but also for the raw material used.

3. Strict Inspection
At Ross Optical, we use strict AQL standards to inspect every part and ensure that each meets the required specifications. We maintain our own testing facilities equipped with the latest metrology tools. From micro optics to aspheric lenses, our metrologists confirm diameter, thickness, bevel, sag, radius of curvature, centering, focal length, angles, and coating performance in transmission and reflection.
"Out of all our vendors, Ross is one of my favorites to work with. Their 100% inspection means that we've never seen a quality issue." —Deanna Burkemper, Buyer, Synergetics, Inc.
4. Customer Communication
At Ross Optical, we recognize that customer support is just as important as part quality. From early consultation through final shipment, we maintain communication with each customer, apprising them of the status of their precision optical components. Should an issue arise regarding material availability or a delivery date, we contact our customers immediately so that we can work together to minimize disruption of their project. We do not wait for our customers to call us.
If you are in a highly-regulated industry, it is important to work with suppliers who share your dedication to quality control. At Ross, we are eager to be part of your team.
To learn how you can help reduce lead time for your precision optics program, download our tip sheet.
10 Tips for Reducing Lead Time