As a registered ITAR supplier, Ross Optical and is carefully tracking ITAR changes and what they could mean to you and your optics supply chain.*
Regulations Rollout Underway
Updates to ITAR regulations have been rolling out slowly for the past few years. By the end of 2016, amendments to 15 of the 21 designated technology categories will be in full effect. If your technology falls within any of those categories, it is important to know how the changes affect your business.
One technology group still in review is Category XII (Fire Control/Sensors/Night Vision). This category is of particular significance to the optics industry. The current proposed amendments appear in volume 81 of the Federal Register, pages 8438–8446. Pending passage, the Department of State intends to start the rollout in August. It is well worth the time to become familiar with the new regulations, in advance of any changes.
Compliant Parts from a Proven Partner
Ross Optical can help you stay on top of federal regulations in this tricky time of change. We are a registered manufacturer with the Directorate of Defense Trade Controls (DDTC), in compliance with the ITAR. We work hard to ensure that our customers can obtain optical components that meet stringent export license requirements, and we can help you understand what regulations currently apply to your product or instrument. Give us a call to learn how Ross can help you.
---
Download our Supply Chain Process Improvement Guide to learn ways to reduce risk, cost, and time in your optics supply chain.
---
A Brief History of ITAR Regulations
The International Traffic in Arms Regulations (ITAR) are the federal regulations created by the Department of State in order to comply with the Arms Export Control Act (AECA) of 1976. A primary component of the ITAR is the United States Munitions List (USML). The Department of Commerce has a parallel set of rules called the Export Administration Regulations (EAR) and a separate list called the Commerce Control List (CCL).
As the military has become more reliant on commercially developed components, the domains of the USML and CCL have overlapped, making it difficult to obtain export licenses for commercial products that compose any portion of a military device, literally down to the nuts and bolts. This has been especially painful for small businesses.
To address this problem, the Obama Administration launched the Export Control Reform Initiative (ECR Initiative) in 2009. The ECR limits the scope of ITAR to products that pose a specific threat to national security. The changes affect thousands of items with thousands of applications, so the regulations have been rolling out slowly, based on the USML's 21 technology categories. The rollout schedule appears on the table below.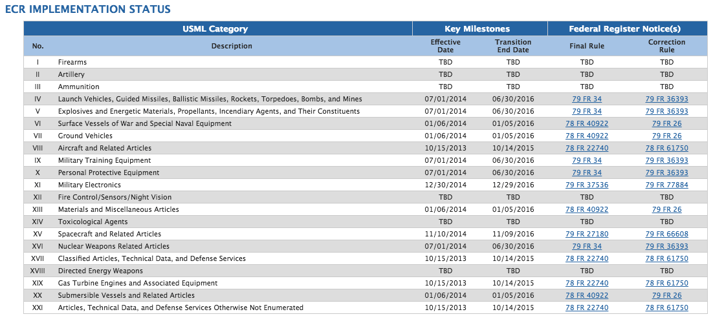 Source: http://www.pmddtc.state.gov/ECR/index.html
For more information, check out the ERC Library fact sheets.
*Note: This article does not constitute legal advice.