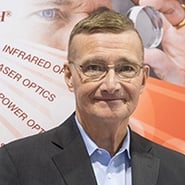 Charlie has been in the optics business for over 40 years and with Ross for 8. With a background in industrial engineering, Charlie enjoys interacting with engineers in their element—getting out on the shop floor and talking technical details in order to help customers manufacture better products.
Tell us a bit about your background and how you came to work at Ross Optical.
I have worked in manufacturing throughout most of my career, and when I came to Ross I had already made the switch into technical sales. My technical background is a major reason why Ross was such a good fit. When I talk to the engineers at different companies that we work with, I am able to communicate with them on a timely basis and have in-depth technical conversations. We can sift through a lot of the preliminary stuff and get right into the detail.
When I worked in manufacturing engineering, I would work with the R&D engineers in the factory, from the design concept all the way through manufacturing the lenses. I would talk to the engineers about what was achievable based on their tolerances, and I would suggest tradeoffs to maintain the desired performance.
Because I understand a lot of the technical situations that customers go through when putting a product together, I can try to steer them in the right direction to prevent problems and unnecessary costs going forward.
What is your favorite part of your job?
My favorite part is going to the different factories and discussing the technical end of the business with customers. I like seeing all the different products that use our types of single-element lenses, as well as multi-element lenses. And of course meeting the people. A big part of my job is establishing relationships with people so they have confidence in what we do at Ross.
What questions do customers frequently ask?
The biggest question people ask is, "Can you hold this tolerance?" When discussing the product, I will give the customer suggestions on ways to improve optical performance. For example, if they're using single lenses, I might offer an asphere that will replace three lenses; the cost factor will be much less, plus it will improve performance in certain instances. If a customer is having performance problems, we can also reverse engineer what they have and come up with solutions to improve their product.
Customers also want to know, "Can you go beyond that limit?" After talking with a customer, I'll go back to the team in El Paso and try to work out a new design to meet their needs. We in the industry are always trying to push the limits of what tolerances we can hold to help customers meet the specifications for their new high-end products.
Can you share a problem you helped a customer solve, or a particularly interesting project you've worked on recently?
We do a lot of work with Microtrac, and we just helped them with a new product introduction. The product requires components that are not commonly manufactured in the industry, but working with known manufacturing professionals we came up with a way to give the customer exactly what they needed. We went back and forth with a couple sets of samples, and finally we were able to find the right solution.
Another company was having a problem with an off-the-shelf, very sophisticated multi-element lens for an inspection machine, and they came to us to reverse engineer it. The customer was struggling to achieve a consistent product; the optical component was so complex that the lens manufacturer couldn't keep up with the demand. With improved optical performance and delivery schedules, Ross's customer will be able to incorporate the lens in more of their products.
What is something that not many people would know about you?
I like exploring new technology. Part of my job is learning what's going to be needed now and in the future. For example, over the years I've been following the trends with aspheres so that we can help our customers use them effectively in new product designs.
At the same time, I'm proud to have some of the more traditional manufacturing knowledge. The fact that I can understand the product—that I can actually go out on the floor and make the substrates or put assemblies together—I think that's important to our role as an experienced supply chain partner.
Connect with Charlie on LinkedIn, or catch him and the rest of the team at Photonics West 2018, Booth #2541.