We recently conducted a survey to learn more about how professionals in the optics industry are managing their supply chains. Respondents spanned a range of industries and roles, but a few similarities emerged.
You can see the full survey results at the end of this post, but here are some highlights:
72% of respondents were from small companies (1-100 employees).
Timing is everything. The two biggest obstacles respondents reported facing were delivery timelines (36%) and a limited budget (31%). Expectedly, meeting timeline demands was noted as the top priority among respondents, followed closely by reducing costs and risk.
58% of those surveyed said they were exploring second sourcing to address supply chain concerns. The next most selected strategies were outsourced assembly or finishing (33%) and blanket PO's (30%). *Respondents were allowed to choose more than one answer.
48% of respondents said they currently use vendor-managed or consignment inventory, while 41% reported using blanket PO's. *Respondents were allowed to choose more than one answer.
What supply chain strategies are you exploring?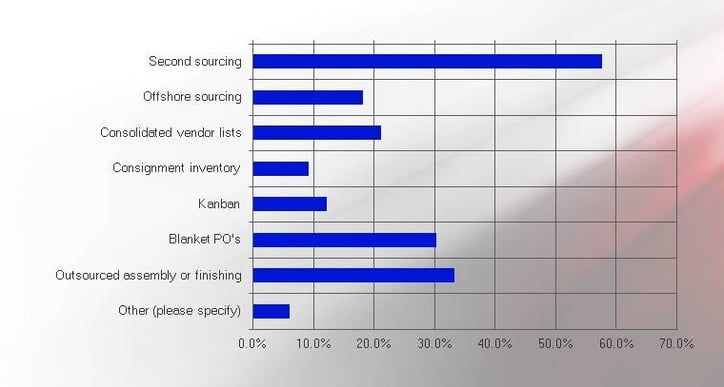 The results of our survey align with some recent trends in supply chain management. Ross Optical works with customers to implement strategies that address these new requirements, helping to speed delivery, cut costs, and reduce risk.
Supply Chain Trends Affecting the Optics Industry
Fastest Delivery
"In 2016, some [consumers] will be expecting delivery drones to land on their doorsteps just shortly after clicking the 'order' button." According to the ISCO Blog, buyers may soon demand now-delivery, as opposed to next-day or even same-day delivery. While custom optics are certainly far-removed from the world of instant aerial gratification, consumer behavior accelerates our own business expectations. The pressure is on to provide the fastest delivery possible.
At Ross Optical, we've taken several steps to help us meet customers' timelines. For example:
Supplier Collaboration
Sourcing and procurement are poised to take center stage in the supply chain, according to transportation management company Cerasis. In order to obtain the best value for materials or services, buyers must focus on collaboration and forming strong relationships with suppliers.
"By ensuring supply chain entities work together in a smarter way, businesses will be able to benefit from more efficient and effective operations," Cerasis says. Collaboration can cut costs and increase value for businesses by creating:
understanding of internal processes and workflows
mutual trust, which leads to referrals
continued innovation and improvement
Ross Optical is a trusted partner to customers, managing projects from design to prototyping, production, and assembly. With our network of global partners, we can establish optical manufacturing outsource arrangements to meet customers' specialty needs while reducing costs.
Risk Management
Managing risk is becoming increasingly important in the supply chain process. The ability to not only forecast potential risks but also react to them is vital, Cerasis says.
Offshore sourcing is one potential source of risk. Ross Optical customers who have tried sourcing directly from offshore manufacturers have cited lead times 2-3 times longer than they receive with U.S. suppliers. However, when we handle these offshore vendor relationships for customers, we can manage risk and timelines while also passing on the related cost savings to our customer.
Our U.S.-based assembly and metrology services provide additional assurance, and because Ross is an ITAR registered facility, customers can trust that products comply with U.S. product and inspection regulations.
Download our guide for more info on reducing supply chain risk.
Check out the full results of our supply chain survey below.