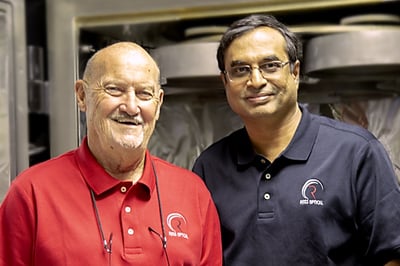 Ross Optical is celebrating its 30thanniversary this year. We sat down with Ed Ross, founder, and Divi Mangadu, president, to talk about the last 30 years and what is next for the company.
What thoughts come to mind on your 30thanniversary?
Ed: That I'm getting old! I have had a good time with the company, and I am not ready to retire. I like what I do, and I like the people. We have a great group at Ross, and Divi has done a great job making us profitable and supporting our optical customers.
Divi: It has been a good run. The company is growing year after year. We have a good set of people, and we are poised to do better and continue to grow in the future.
Why did you start the company?
Ed: I set up 4 different optical companies for other people. The last company I set up was a company in Taiwan in the 1980s. They wanted me to stay and work with them. But I finally thought, why don't I set up my own company? So that's what I did. I started Ross in California originally, and I realized that was not a good place to start a company. I also wanted to get back to El Paso, so I moved the company to El Paso in 1989.
What are your biggest highlights from your years at the company? What are you most proud of?
Ed: I am proud of everything that we have accomplished and of picking good people who I like to work with. Adding Divi to the team 26 years ago was a great decision.
Divi: Being able to maintain this company in a profitable way even though we had a downturn in the economy. We have been profitable for the last ten years. Even though the economy was down, we have either broken even or been profitable each year. At the same time, we're helping to guide our customers' optical designs in a way that adds value and saves them money.
What are the biggest changes you have seen in the industry in the last 30 years?
Divi: The biggest change has been moving to CNC (Computer Numerically Controlled)-based manufacturing and towards aspherical optics.
Ed: I first set up manufacturing in El Paso and then Japanese and Chinese companies got into the business, and we could not compete on price. So we decided to shut that down and started importing. We now have a lot of experience in sourcing and importing, and we complete the optics here. This allows us to provide both custom optics and catalog optics at competitive pricing.
What has changed at your company?
Ed: About 2 years after I started the company, we were getting low in cash, and another company wanted to buy me out. I was bought out by Indel and we spent almost ten years as part of that umbrella of companies. Then I bought the company back in early 2000 and we have been independent ever since.
Divi: At that particular time, we were doing high-volume, high-speed production set up on all Japanese machines. We have moved the majority of our business to OEM, though our catalog sales are growing. Our marketing and website have helped us to grow and to increase our catalog sales from 15% to close to 30% now.
What is next for Ross?
Divi: The next phase for us is to go into more high-end manufacturing and higher quality. We also have plans to set up CNC manufacturing here. We will continue to provide both ITAR and commercial custom and catalog lenses and assemblies.
What lessons have you learned?
Divi: Do your market research before starting a company.
Ed: I didn't know that at the time; I just started my company with no market research.
Divi: For optics, do not start a traditional manufacturing operation unless you are going to go into CNC manufacturing.