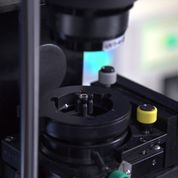 Ross Optical's acquisition by Precision Optics Corporation adds new capabilities to our portfolio with micro-optics down to sub-millimeter sizes. Products and systems requiring optical surfaces less than 2 mm in diameter often result in a trade-off, sacrificing either quality, price, or supply.
As a proven optics partner, Precision Optics produces lenses with diameters as small as 0.37 mm using our proprietary micro-precision™ technology. This advanced technology provides customers with products in sizes comparable to GRIN lenses, but with the breadth, capabilities, and quality of precision ground and polished lenses.
In addition, we have a MarOpto FI 1040 Z, a full-featured interferometer that provides non-contact measurements of flat or spherical surfaces and transmitted wavefront of optical components and assemblies. This machine has the following capabilities:
6x zoom for workpieces as small as 0.5 mm in diameter

Three modes of interferogram analysis: Phase shifting, IntelliPhase – static spatial carrier analysis, and fringe tracing




F-number from F / 0.7 to F / 6.0
Ross Optical produces micro-lenses with diameters from sub-millimeter to 6.0 mm and ball lenses under a millimeter. We work with each customer to provide the micro-optics lenses and other components that meet our customer's unique requirements.
Micro-optics from Ross Optical are at the heart of micro-optical systems, including devices for optical fiber transmission, medical devices, instrumentation and sensing systems, and a host of visualization devices. Micro-optical lenses allow shorter focal lengths for compact systems.
See our micro-optics page for more information and contact us to discuss your specific needs.
Download Our Free Optical Calculator: Developed at Ross Optical to aid our manufacturing team, the Optical Calculator offers frequently used calculations including but not limited to EFL, F#, Centration, Sag and Radius, and Aspheric Surface. With this helpful tool, you will have the ability to calculate according to industry requirements easily and quickly.