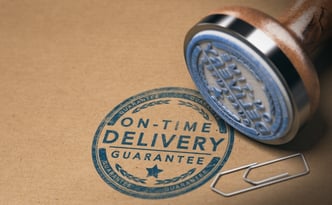 This article is the second in our three-part series on "secrets" that good optical designers must understand in order to become great. These tips are things that you can only learn from experience---or reading these articles!
In this article, we identify some of the supply-side challenges that optical designers face and offer some solutions. This knowledge will help you develop and protect your supply chain.
Lead Times
Optical fabrication requires precision at the nanometer (and now subnanometer!) scale, and that is time-consuming. Optical designers must always consider lead times when developing an optical system, even for stock parts, and especially for uncommon or custom-made pieces. Keeping a project on schedule and establishing a reliable supply chain both depend on the consistent availability of the elements that you need. At Ross, we can review your optical design and recommend component changes that can significantly reduce wait times.
Inventory Management
The best way to mitigate long lead times is by ensuring that your parts are in stock when you need them. For regular orders of standard, off-the-shelf components, maintaining a smooth supply chain is relatively easy if you have built a relationship with your supplier. Complications arise, though, if your product calls for an unusual optical component or if your need fluctuates. In those situations, it is imperative to safeguard a sufficient stock of your parts. To protect your optics supply chain, Ross offers inventory management solutions such as blanket purchase orders and vendor-managed inventory.
Sustained Communication
Dialogue with your optical component vendor needs to be a continuing process. To prevent a surplus or shortage of your parts, you must alert your supplier well in advance if you anticipate a change in your needs. Similarly, your vendor should keep you abreast of market changes that could change the availability or price of your parts. Set a schedule to discuss your optics supply chain at regular intervals. At Ross Optical, we follow up with our customers at intervals suitable to their rate of delivery, whether that be semiannually or monthly.
Supplemental Sources
It is, unfortunately, not uncommon for an optics supply chain through a single vendor to end abruptly. Such severances are most common with overseas shipments, which can be delayed indefinitely by weather, customs, or trade-law problems. Domestic issues occur as well, including natural disasters, facility damage, and bankruptcy. In all cases, it is good to have established a relationship with other vendors. Delays in your production can propagate down the OEM chain, even affecting the consumer. Many customers were grateful that Ross Optical was able to step in as a principal supplier after Rolyn Optics went out of business.
Because optics is a fast-moving industry, it is critical that all businesses maintain a stable supply chain. Remember, at Ross Optical we specialize in tracking down difficult-to-find optics. Give us a call to learn how our inventory solutions can ensure that you always have the parts you need when you need them, no matter what they are.
Download our new tip sheet - Secrets of Optical Design: