Meeting Needs, By the Numbers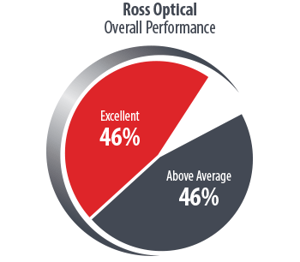 We just completed our 2017 customer survey, and Ross Optical once again received high marks for customer service, technical expertise, quality and delivery. On overall performance, 92% of customers rated Ross above average or excellent.
Our customer service team was rated above average or excellent by 96% of customers based on their friendliness and ability to help with inquiries. The same percentage of customers rated us above average or excellent on our ability to consistently meet their quality requirements.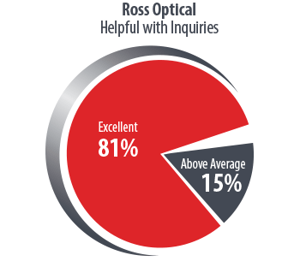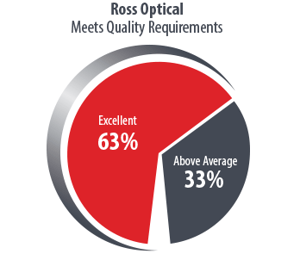 In addition:
Considering whether our technical knowledge met their needs, 74% of customers rated us above average or excellent, a 10% increase from 2016.
Our competitive prices are continuing to benefit customers; 71% rated us above average or excellent on pricing, a 13% increase from 2016.
73% of customers agreed that Ross's lead times met their needs (above average or excellent), a 13% increase from 2016. Customers also appreciated our timely response to RFQs, with 82% rating us above average or excellent.
What Customers Had to Say
"Everything is always on time and they even remind me when we are low on something. Any issue is resolved quickly. So easy to work with, it is as though Ross Optical is across the hall rather than across the country."
"Responsiveness and customer service is top notch!"
"Lisa Yang is a pleasure to work with. She makes my job easier."
"Communication is excellent."
"Have stock ahead of requirements."
Current Case Studies
We're always looking for ways to improve supply chain performance and increase value for our customers. Our ability to offer hard-to-find optics, as well as in-house services like optical engineering, coating and assembly, has helped get some big products and projects off the ground. Here are a couple of examples:
Ross works closely with the team at Microtrac to provide custom optics that support their particle analysis instruments. A consignment inventory program—along with material sourcing, in-house optical design, coating, and inspection—has helped reduce cost and risk for new and existing product lines. Read the Microtrac case study.
The Keck Cosmic Web Imager (KCWI) at Keck Observatory is letting us peer into space like never before. Ross provided a coated, large-format lens for the telescope's guider camera. Our selection of in-stock large lenses helped reduce lead times, while the right material and high quality coating helped provide a clear, sharp image. Read the Keck case study.
To learn how you can save money and improve optical performance on your next project, contact us—or download our new cost considerations guide.