Customer satisfaction rises again in 2015
We recently completed our 2015 customer survey and were pleased to find that customer satisfaction is once again on the rise, at 4.65 out of 5. Customers praised our responsiveness, design prowess, and range of components and coatings. We're thrilled with this feedback, but we know we can always do more for those we serve. Read on to learn how we've expanded our capabilities.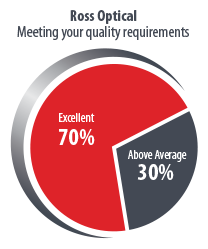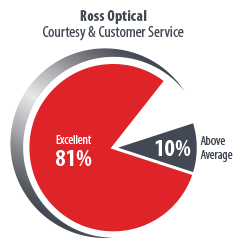 Customer quotes:
"Divi and the whole crew have been an invaluable resource for me in optical design and manufacturing. Also coatings design. I have always been very pleased with response time, they answer all my questions with thoroughness and professionalism, and the pricing and lead times are excellent as well."
"The service is excellent. I wish that all of my vendors were as responsive as Ross Optical."
"[Ross Optical provides] parts with unusual parameters (focal lengths, diameters, etc.) and a wide range of good custom coatings."
Read more: The Top 5 Reasons Why Customers Choose Ross Optical
Serving customers better: in-house coating and more
Thanks to the feedback, we are making improvements to serve our customers even better in the coming year. We have expanded our optical coating capabilities in order to provide in-house coating for our custom and standard optical lenses, or customers' lenses. While we offer a broad range of coatings, we can coat in-house from 250 to 2400 nm in as little as 3 days. Learn more or request a quote online.
The Ross Optical engineering team works hard to achieve the best optical design for customers, but we do more than just lens design. Customers look to us for:
Reverse

engineering

Mechanical design
Systems design
In fact, some of our key engineering team has been involved in the launch of Ross-Zheng Engineering, offering R&D for firearms manufacturers.
We also continue to help many customers looking to part-match Rolyn optics.
Contact us to discuss your latest design challenge.