Previously we explored unusual scientific applications of smartphone technology. This week we direct our attention to telemedicine and discuss how Ross Optical is helping a healthcare company bridge the divide between patient and provider.
Telemedicine: A Growing Field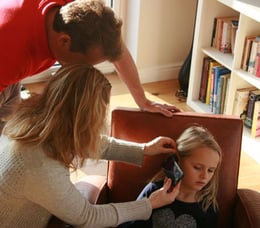 Telemedicine refers to providing medical services at remote distances using modern communication methods. The US Department of Health and Human Services considers telemedicine to be crucial for extending healthcare to rural communities—so much so that USDHHS set aside $22.1 million in January 2015 to support development of this field, as reported by the Wall Street Journal.
The Power of Smartphones
Smartphones are powerful handheld computers with a high-resolution camera, connected wirelessly to the global internet. These features make them a particularly useful tool for telemedicine. To demonstrate how micro optics play a key role in these applications, we'll show how Ross Optical is supporting efforts to create a "doctor in your pocket" for Cupris Health.
---
Fact Sheet: Micro Optics Enable Smaller Medical Devices
---
Bridging the Instrument–Expert Gap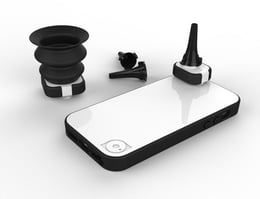 The monocular otoscope is one of the most used tools in medicine. Healthcare professionals use these inexpensive, handheld microscopes to efficiently examine the ear and throat (and less frequently the nose) of patients. While they are an easy fit for point-of-care diagnostics—including at-home testing—it would be useless to distribute them to a population (i.e. patients) that could not diagnose what they saw. An otoscope needs an expert eye at the other end.
To bridge the disconnect between the instrument and the physician, Cupris Health has developed a health platform built on the power of smartphone technology. The instrument Cupris envisioned used the smartphone's camera and microphone to capture medical images and voice recordings; the onboard computer collects the patient's records, and a wireless connection securely transmits this information to the healthcare facility's distributed network. A healthcare provider can analyze the recording and send a diagnosis back into the network, where it is accessible to other healthcare providers and is recorded back onto the smartphone.
The Optics Challenge
Converting the smartphone camera into an otoscope presents a significant optical design challenge. As we explained in an earlier post, the geometry of an optical system limits image resolution. Cupris developed an optical design that optimally balanced size and resolution, but the design relied on a specific microlens.
And that is where Ross Optical helped.
The critical lens was ostensibly a "catalog" optic, but it was no longer stocked. Cupris needed one lens for proof-of-concept testing and 10–12 for prototyping, all for less than $100 each. Ross knew they could meet the price and quantity goals, but lead-time would be 8 weeks.
Anticipating that Cupris could become a valuable customer, Ross immediately sought to speed the process. Scouring their network of sources, they identified a five-year-old lens of sufficient quality for the proof-of-concept tests. In parallel to these efforts and based only on a verbal agreement, Ross initiated the process of acquiring and stocking the uncommon lens. By the time Cupris was ready for prototyping, Ross had 29 lenses in stock and had reduced lead-time to only 3–4 days.
Ross Optical's customer commitment enabled Cupris Health to go from concept to commercialization in less than one year. Contact us today to discuss how we can help you.
---
Download: 10 Tips for Reducing Lead Time for Optical Components