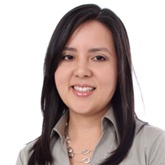 Erika has been with Ross Optical for 7 years. From our quality management system to our thorough optical inspection process, Erika helps ensure that our products meet customer requirements as well as our own high quality standards.
What is your background?
I have a Bachelor's degree in Industrial Engineering and a Master's degree in Manufacturing Engineering with specialization in production systems and design of manufacturing processes. I have Six Sigma Green Belt and ISO 9001 certifications.
My previous experience is in the automotive industry in the areas of industrial engineering (improvement of production time systems and production line efficiency), quality (design of experiments and Six Sigma projects), and costing (engineering changes and financial analysis of new business projects).
What attracted you to come to Ross Optical?
I was interested in getting more experience in the quality area, and they were looking for a person to work on the quality management system and obtain the ISO 9001 certification. I had the opportunity to build the entire system. It has been a great learning experience that broadened my skills in the quality area while I was also learning about a product that was new to me at that time.
What's your favorite part of your job at Ross Optical?
My favorite part of the job is the wide variety of activities; I am involved in the implementation and maintenance of the quality management system as well as in the quality control and production areas. Also, the wide variety of products. We have an extensive catalog and also provide custom optics, so we work on new products almost on a daily basis. We never get bored.
What's the most challenging part of your job?
What makes it interesting is also what it makes it challenging. We work on new products very often and have to learn about their specific requirements and adjust our inspection and production schedules to the different demands, from orders of one or two pieces to orders of thousands.
What are some problems you have solved for your customers?
We are very strict in our inspection processes and have been able to achieve a return rate close to 0.3%. Most of the complaints we receive are surface quality rejects, just one or two pieces, which is normal due to the nature of the product. But occasionally we have encountered more complex issues, usually in more complex products such assemblies or parts with very tight quality tolerances. In those cases, we work closely with the customers to solve the issues and get them good parts as soon as possible.
Learn about other members of our leadership team, or contact us. We're always here to help.